Auto Continuous Thermoforming Machine (Mold Changed from Side Direction)
Thermoformer SLC-1200-

Auto Continuous Thermoforming Machine (Mold Changed from Side Direction)

Thermoforming Machine for Sale
SEE THE VIDEO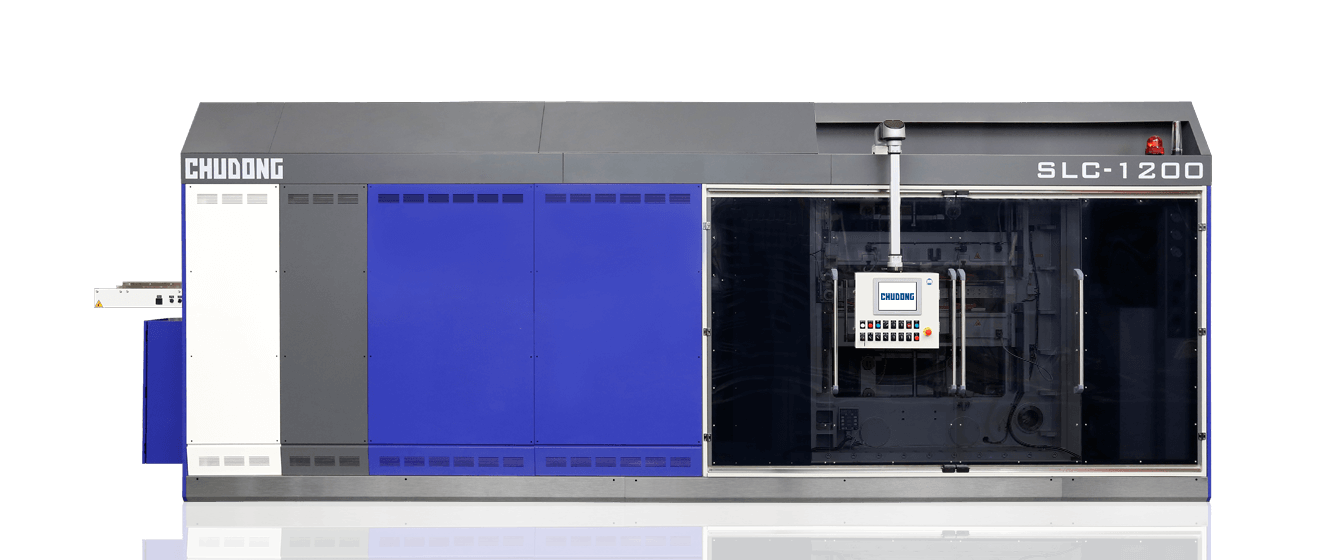 High-rigidity design of machine bed:
Integral casting design combined with high-tension steel plate structure offers steady and low noise operation.
Servo chain feeding system:
Japanese chain operated by servo-controller ensures exact precision of high-speed feeding.
Precision Temperature Control System:
Independent temperature control with respective setting for each temperature zone, uses SSR with PID calculus for controlling the temperature, combined with high-speed transmission and control, offers precision adjustment and is convenience for elevated yield.
Upper and Lower Heating Oven:
German made ceramic heater, temperature accuracy can be controlled very well.
Automatic Lubrication System:
Automatic oil feed for slide parts, eliminating any failure resulting from insufficient lubrication.
Third-movement forming:
Servo-drive mechanism to enable arbitrary positioning and travel corresponding to mold height.
Rim pre-heating system:
Pre-heating the material prior to material feeding, facilitating smooth operation of the subsequent process.
Universal voltage:
Any voltage is available when specified in advance.
CE Certificate.
EU version with entire stainless steel system.
Specifications
Model
SLC-1200
Max. Forming Area
Max 1200 mm x 1000 mm
Min 840 mm x 600 mm
Max. Forming Height
150 mm
Clamping Force
84 tons
Material thickness
0.2 - 2.0 mm
Machine weight
about 17,500 kg