Automatic Plastic Vacuum Compression Thermoforming System
SL-1220A + SL520:

Automatic Plastic Vacuum Compression Thermoforming System

Thermoforming Packaging Machine
SEE THE VIDEO

Patented High-precision

Thermoforming Clamping Mechanism
Precise swift innovative quality stable reliable advanced performance
CHUDONG designed this mechanism in pursuit of high rigidity and high performance as the highest benchmark in the first place and has invested vast R&D resources in the core structural design of thermoforming. The high-pressure thermoforming efficacy is achieved by the 4-point clamping mechanism solely developed by CHUDONG equipped with the powerful robust clamping capability in combination with the 4-pillar high-rigidity thermoforming mainframe structure. Perfect thermoforming must be done in 0.5 seconds after clamping, so precision, stability, performance, and efficiency of mechanical operations do matter the most. The CHUDONG SL series with high-precision mechanisms and high-efficiency control components can make perfect finished items under easy calibration in producing respective materials besides reliable and stable outputs for the maximal effects of our clients.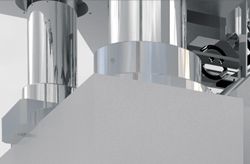 The high-rigidity body design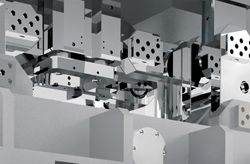 The patented 4-point clamping mechanism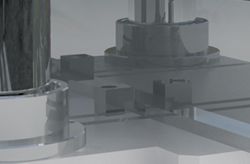 QDC System
Forming, Cutting and Stacking All in One Machine
Pressure and
Vacuum Forming

Pre punch

Dimension
Cutting

Automatic
Stacking
Your Application
Well Informed About Our Thermoforming Technologies
Rigid Plastic
Sushi box

Egg box

Strawberry box

Salad box

Fruit box

Vegetable box
Foamed Plastic
Takeout box

Instant noodle bowl

Lunch box
Notice
: Undefined index: PHPSESSID in
/home/chudong/public_html/solution_i.php
on line
255
*Fields marked with an asterisk
*
are required.